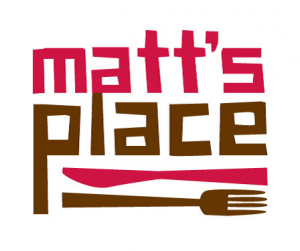 Matt's Place is a meals program that provides an opportunity for those in our community who are homeless, lonely, or otherwise socially disadvantaged to come together to share a hot, home-cooked, two-course meal. It is a warm and welcoming place where people experience friendship and connection.
Matt's Place first opened its doors in 2007 when a group of local churches united to meet the growing need within our local community to feed the homeless and socially disadvantaged. Matt's Place started with one service a week at St Matthew's Anglican Church in Cheltenham. Today we are operating two days a week, Thursdays, still at St Matthew's, and Tuesdays at St Chad's. Over these two venues, we are now providing approximately 250 people per week with a hot, two-course meal.
Matt's Place is founded on the principle found in Matthew 25:40
'Truly I tell you, whatever you did for one of the least of these brothers and sisters of mine, you did for me.'
We aim in all our endeavors at Matt's Place to treat all people as people of worth; serving others with grace and patience and acknowledging that everyone is created in the image of God.
Matt's Place – Where and When:
Matt's Place Chelsea
Venue: St Chad's Anglican Church, 12-14 Thames Promenade, Chelsea
Date & Time: 11.30 am – 1.00 pm every Tuesday
Matt's Place Cheltenham
Venue: St Matthew's Anglican Church, Cnr Park Rd & Nepean Hwy, Cheltenham
Date & Time: 11.30 am – 1.00 pm every Thursday
If you would like to be part of any of the Matt's Place ministry teams please contact us.